Main content starts here, tab to start navigating
Menus
Slide 1 of 2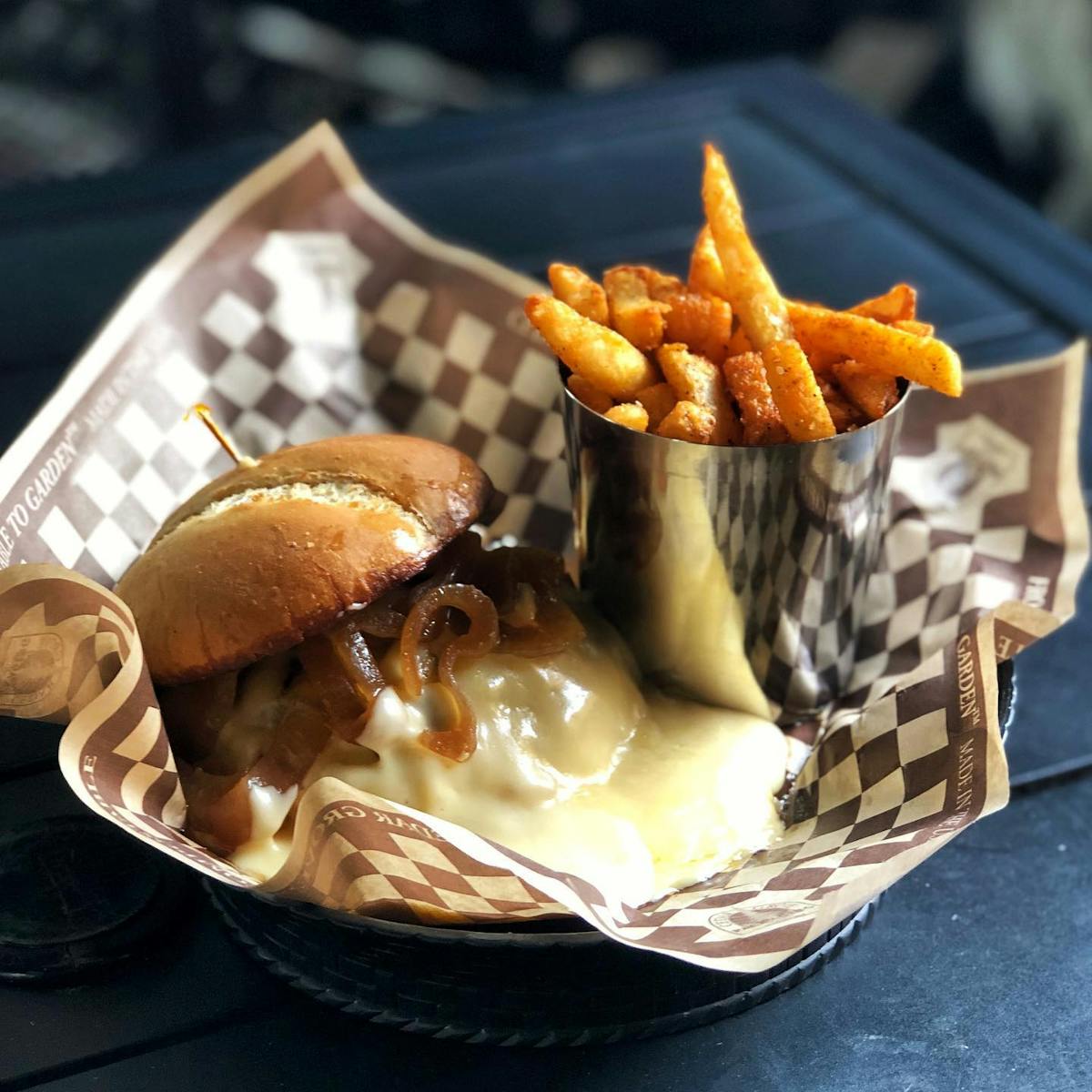 Slide 2 of 2
Appetizers
Additional sauces available for .50
Brew Balls

House made tater balls stuffed with a cream cheese and jalapeno filling. Deep fried and topped with Solitary IPA beer queso and green onion.

$15

Fried Pickles

Thick cut pickle chips, dipped in our gold medal winning Walla Walla Wheat beer batter. Fried and topped with our blue buffalo sauce, blue cheese crumbles and chopped cilantro.

$15

Totchos

A basket of our popular tots topped with Solitary IPA beer queso, tomatoes, bacon, and green onion.

$16

Monumental Nachos 19.00 | Solitary IPA Pulled Pork $23 | Beef $24 | Chicken $24

Layers of "Nacho Love" and Solitary IPA beer queso. stacked inside of The Big House's nacho Tower, presented tableside. Serves 4, maybe less depending on hunger level and beer intake.

$19

Veggie Quesadilla

Roasted corn, black beans, tomato, green onion, cilantro, chipotle ranch with Monterey jack cheese.

$14

Chicken Bacon Quesadilla

Grilled chicken breast, bacon, green onion and Tomato, ranch with Monterey jack cheese.

$15

Pork Quesadilla

Tender Solitary IPA braised pulled pork, barbecue sauce, cilantro, pickled red onion, and jack cheese. Served with salsa and sour cream.

$15

Steak Quesadilla

Grilled tenderloin steak pieces, melted blue cheese, caramelized onions, with blue balsamic sauce.

$15

Steak Bites

Hand cut steak pieces, perfectly fried and tossed in Big House butter.

$17

Wings | $17 Full | $11 Half

Basket of wings. Fried, seasoned and served naked or tossed in your choice of Buffalo, Korean BBQ, Spicy BBQ, BBQ sauce, or Big House butter and parmesan.

$17
Salads Full & Half
Fiesta Salad

$16 Full | $ 10 Half Spring mix, diced tomatoes, corn, black beans, tortilla chips, cilantro, Monterey jack, and avocado. Add chicken $5 | Add ground beef $4

$16

Chicken Caesar

$17 Full | $12 Half Grilled chicken fresh romaine, shaved parmesan, tossed in Caesar dressing, topped with croutons and lemon wedge.

$17

Chicken Cobb Salad

$19 Full | $13 Half *GF Mixed greens, topped with grilled chicken, crispy bacon, hardboiled egg, diced tomatoes, blue cheese crumbles, and avocado.

$19

Crispy Chicken Salad

$19 Full | $13 Half A bed of mixed greens topped with Crispy fried chicken, savory bacon, tomato, avocado, red onion, hardboiled egg, toasted almonds and Monterey jack cheese.

$19

Steak Salad

$21 Full | $16 Half *GF Big House butchered Angus Beef over mixed salad greens paired with cherry tomatoes, pickled red onion, fresh avocado pieces, blue cheese crumbles and crispy fried onion pieces.
Sandwiches
Traditional Club

Smoked ham, roasted turkey, lettuce, tomato, cheddar, garlic aioli, and bacon on toasted white or wheat bread

$16

Chicken Club

Grilled or crispy chicken, bacon, avocado, lettuce, tomato, mayonnaise and cheese.

$17

Pulled Pork Sandwich

Big House's Solitary IPA braised pork with BBQ sauce and mango slaw.

$16

Prime Dip

5 oz of thinly sliced prime rib, caramelized onions, swiss, and horseradish mayo on a toasted hoagie. Served with au jus.

$19

Dipped Chicken

Breaded and fried chicken breast. You're choice of BBQ and cheddar, Buffalo and blue cheese, or Fuego BBQ and pepper jack cheese Topped with lettuce, tomato, red onion, and pickle.

$17
Burgers
Served with your choice of fries, tots, or a side salad. "Kick it up a notch" and we'll toss your fries or tots in our spicy seasoning to give you some heat at no extra charge! Substitute a cup of soup or sweet potato fries, for an additional charge.
Sliders

3 mini burgers, choice of cheese, lettuce, tomato, onion, and pickle.

$16

Classic Pub

1/2 lb Angus beef patty, cheddar cheese, lettuce, tomato, onion, and pickle.

$16

Angry Pub

1/2 lb Angus beef patty, Pepperjack cheese, jalapeno, honey cured bacon, house remoulade sauce, spicy crispy onions, house guacamole, lettuce, tomato, onion, and pickle.

$19

Bacon Jam and Blue

1/2 lb Angus beef patty, topped with house made bacon jam, creamy blue cheese crumbles, lettuce, tomato, red onion and dill pickles.

$19

Guacamole Bacon

1/2 lb Angus beef patty, cheddar cheese, house made guacamole, bacon, lettuce, tomato, onion, pickle.

$19

Mushroom Swiss

1/2 lb Angus beef patty, layered sautéed mushrooms, Swiss cheese lettuce, tomato, onion, pickle, and horseradish mayo.

$19

Fuego

1/2 lb Angus beef patty, Texas style spicy BBQ sauce, Fuego Bacon, fresh jalapeno, pepper jack cheese, lettuce, tomato, onion, and pickle.

$19

Barnyard

1/2 lb Angus beef patty, grilled ham, crispy bacon, fried egg, choice of cheese, lettuce, tomato, onion, and pickle.

$20
Pub Classics!
Fish n Chips

Alaskan Cod breaded in our gold medal winning Walla Walla Wheat beer batter, fried to perfection, served with fresh coleslaw and house made tartar sauce.

$17

Grilled Fish Tacos

Grilled blackened spiced cod topped with Lime cilantro cabbage, pickled red onion, jalapeño, crumbled feta cheese sour cream based crème.

$18

Chicken Strips

Breaded, juicy chicken tenders served with your choice of fries or tots. Also comes with your choice of dipping sauce and coleslaw.

$16

Classic Mac

Cavatappi pasta, topped with more cheese and green onions.

$16

BBQ Mac

Bacon pieces, green onion, cavatappi pasta topped with BBQ sauce, Solitary IPA braised pulled pork and Fried onions.

$18

Buffalo Mac

Bacon, green onion and cavatappi pasta topped with buffalo chicken and blue cheese crumbles.

$18

Spicy Mac

Fuego bacon, roasted jalapeno, green onion, Tossed with cavatappi pasta.

$18

Chicken Bacon and Spinach Mac

Grilled chicken chunks, bacon, green onion, baby spinach and cavatappi pasta topped with fried onions

$18
Desserts
Espresso Almond Fudge Ice Cream

Espresso flavored ice cream, dark chocolate fudge and sprinkled with almond pieces.

$4

Chocolate Layer Cake

Creamy chocolate pudding between layers of moist chocolate cake topped with cake chunks and chocolate ganache.

$10

Raspberry Cheesecake

Raspberry infused cheesecake topped with powdered sugar and whipped cream.

$10
Kid's Menu
I Don't Know (classic grilled cheese)

Melted cheddar cheese between toasted wheat bread, served with your choice of side

$80

I'm Not Hungry (Junior Chicken Strips)

Two pieces of deep-fried, breaded chicken with your choice of side

$9

I Want To Go To McDonalds (Kid's Burger Sliders)

Two beef sliders with mayo and cheddar, served with your choice of side

$9

I Want To Go Home (Macaroni and Cheese)

$7

I DON'T CARE

Kids' quesadilla

$7
Available Starting 5/25/23. Only available in house.
Specials
Pretzels | $14

3 Warm and salted Bavarian pretzels, served with our house made beer cheese and stone ground mustard sauce.

Cheese Curds | $15

Garlic cheese bites, fried golden and melty, served with our jalapeno ranch.

Mandarin Chicken salad | Full $18 Half $14

Mixed salad greens dressed with honey balsamic vinaigrette. Topped with grilled chicken breast, mandarin oranges, sliced white onion, cucumbers, avocado, goat cheese and toasted almonds.

Taco Salad | $17

House fried tortilla bowl filled with romaine, seasoned taco meat, avocado, black bean, tomato, pickled jalapeno, green onion, cilantro and dressing.

Curd Burger | $18

8oz Angus beef patty, topped with cheese curds tossed in gochujang sweet chili sauce with lettuce, tomato, onion and pickle on a ciabatta bun. Comes with a side of your choice.

Steak Sandwich | $20

Tender seasoned Angus beef topped with cranberry balsamic chutney, goat cheese, and arugula dressed with a citrus balsamic vinaigrette all on a ciabatta roll. Comes with side of your choice.
We are a craft brewery with a great restaurant/bar that happens to be attached! Come on in for a flight, pint, crowler, or a growler fill.
Current Craft Beers
Solitary IPA - 6.5% ABV 70 IBU

Bold hop flavor brought to you by Citra and Amarillo hops

Walla Walla Foggy Foggy Hazy Hazy IPA - 6.5%ABV / 60IBU

The WWFFHH for short…Triumph and Mosaic hops are working overtime to bring bold and fruity flavors. Tropical notes with a citrus finish.

The M.E.L. - 5%ABV / 12IBU

American full bodied lager with crisp sassy nish.

Walla Walla Wheat - 5% ABV 10 IBU

American style wheat ale. 2022 Gold medalist at the Washington State Beer Awards

Sunny Susan IPA 6.2%ABV / 60 IBU

American style IPA made with an abundance of Azacca hops. Starting slightly sweet then ending with a mellow bitterness. This IPA has a nice fruity citrusy aroma.

Hi Steve! Vanilla Milk Stout - 7.5%ABV / 20 IBU

Steve is a great dude, and so is this beer! Vanilla, Chocolate, and various roasted Flavors. (Contains Lactose)

Chupacabra Mexican Lager 4.5%ABV / 20IBU

Golden amber hue, crisp and refreshing. Malt forward with light hop presence.

Ahhroma Session IPA 4.5%abv 50IBU

Ahhroma and Enigma hops are used in this dry and crisp session IPA. Light bodied with spicy and earthy notes.
Guest Taps
Incline Cider - Imperial Hazy Honeycrisp 6.5% ABV

Hazy, bold, and refreshing. Crafted with the famous Honeycrisp apple
Root Beer
Big House Root Beer

House crafted Root Beer made from all natural cane sugar.
Big House Cocktails
Mayhem Margarita

Patron Silver, Naranja, Triple Sec, one full pressed lime, salty rim

$16

The Paloma Pat-Down

Absolut Grapefruit with sugared rim, or Dulce Vida Grapefruit Tequila with salted rim. Club soda, red grapefruit juice, lime

$12

Huckleberry Lemon Drop

Deep Eddy's Lemon Vodka, Heritage Huckleberry Vodka, Wild Roots Huckleberry Vodka, lemon

$12

Your Dad's Old Fashioned

Four Roses Bourbon, bitters, simple, orange peel

$14

Collins Gone Wild

Wild Roots Gin, lemon, simple, soda water

$12

Jameson Lemonade

Jameson | ginger beer | lemon juice | simple | club soda

$12

Irish old fashioned

Jameson | chocolate bitters | Simple | orange peel

$14
Whiskeys
Basil Hayden / Black Velvet / Bowman Brothers / Buffalo Trace / Bulleit / Bulleit Rye / Bushmills / Crown Royal / Elijah Craig / Jack Daniels / Jameson / Jim Beam / Knob Creek / Knob Creek Rye / Makers Mark / Old Forester / Pabst White Whiskey / Pendleton (peanut butter whiskey) / Screwball / Seagrams 7 / Southern Comfort / Rebel Bourbon "well" / Wild Trukey Rye / Wild Turkey / Woodford Reserve
Vodkas
Absolut / Absolut Grapefruit / Absolut Peppar / Absolut Raspberry / Absolut Vanilla / Cedar Rain Green Tea / Deep Eddy Lemon / Grey Goose / Heritage Huckelberry / Ketel One / Luksousowa / Pinnacle Citrus / Pinnacle Whipped / Smirnoff / Titos "well" / Well Vodka / Wild Roots Huck
Scotch
Glenfiddich 12 / Johnnie Walker Black / Johnnie Walker Red / Benriach - The Smoky Ten
Tequila
1800 Repasado / 1800 Silver / Casamigos / Corralejo Rep / Cuervo Gold / Cuervo Silver / Don Julio / El Jimador / Herradura Anejo / Hornitos Plata / Hornitos Repasado / Patron Repasado / Patron Silver / Patrone Citronge / Santo Blanco / Santo Reposado / Sauza Gold / Sauza Silver / Campo Bravo Reposado "well"
Rum
Bacardi / Bacardi Anejo / Bacardi Black / Bacardi Gold / Bacardi Limon / Captain Morgan / Malibu / Trader Viks Dark / Rumchata / Don Blanco Cristal "Well" / Mt. Gay
Gin
Beefeater / Bombay Saphire / Empress / Hendricks / Tanqueray / Well Gin / Wild Roots / Broker's London Dry "Well"
Beer
Quirk Brewing (Local) Solid State Pilsner

Visiting or new in town? Make sure to say hi to our friends at Quirk Brewing. located by the Walla Walla Airport.

Crush Cucumber Sour

Crush Raspberry Cider

Heineken

Michelob Ultra

Modelo

Pacifico

PBR

Rainer

Blue Moon

Black Butt Porter

Budweiser

Bud Light

Coors

Coors Light

Corona

Dos Equis

Estrella Jalisco

Mac & Jacks

Ghostfish Brewing - Grapefruit IPA "Gluten Free"
Ciders / Seltzers
Blue Mountain Cider

Ace Pineapple Cider

Elemental Blood Orange Cider

White Claw - Raspberry / Mango

Nutrl - Pineapple / Raspberry / Watermelon
Non Alcoholic
Partake Dark Ale

Crux Brewing - No Mo Hazy IPA

Hoppy Refresher

Athletic Brewing - Upside Dawn Golden Ale
Cold Beverages
Arnold Palmer

$2.50

Chocolate Milk

$2

Ginger Beer

$4

Iced Tea

$2

Mango $0.50

Peach $0.50

Strawberry $0.50

Raspberry $0.50

Kid's Drink

$1.50

Lemonade

$2

Mango $0.50

Peach $0.50

Strawberry $0.50

Raspberry $0.50

Lemonade Huckleberry

Lemonade Mango

$2.50

Lemonade Peach

$2.50

Lemonade Raspberry

$2.50

Lemonade Strawberry

$2.50

Milk

$2

Rock Star

$4

Roy Rogers

$2

Shirley Temple

$2

Soda Water

$2

Tonic

$2
Soda
Ginger Ale

$2

Pepsi

$2

Diet Pepsi

$2

Dr. Pepper

$2

Brisk Raspberry Iced Tea

$2

Mt. Dew

$2

7-UP

$2